Introduction
As the creator of a SaaS startup, you know how important it is to get good leads to increase sales and grow. To do this, you must create leads, improve content, and use SEO and social media.
Outbound lead generation is essential for your marketing strategy. It involves finding and converting good leads.
There are different ways to get good leads, like making cold calls and sending emails. You can also use social media and reach out through multiple channels.
For the best results, work with a professional outbound lead generation agency focusing on generating leads. They can help you generate more leads by using strategies that work for you.
Here, you can find five top B2B lead generation companies for SaaS startups.
Let's get started!
Top 5 Outbound Lead Generation Agencies for SaaS Products
You have many options when searching for a B2B SaaS lead generation agency. Some companies are exceptionally skilled in generating new leads through outbound marketing.
Here are five of the highest-rated ones.
1. growth.cx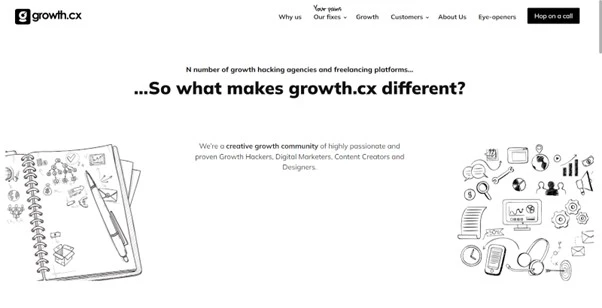 growth.cx is a full-service outbound lead generation agency focusing mainly on SaaS growth strategies. growthcx is the ultimate solution for startups that want to multiply their customer base quickly and efficiently.
Our expert phone, email, and social media outreach ensure your business gets the attention it deserves. At growth.cx, we use successful strategies that meet high standards. We provide quality and proven success for outbound lead generation services.
Main Features
Facilitate Appointments: growthcx is skilled at scheduling important appointments with potential clients. They save time and ensure your products and services reach interested consumers.
Demand Generation: growthcx wants to attract many customers to help your business succeed, even in a competitive market.
Outbound cold mail: They use cold mail to reach your target audience and start valuable conversations.
Lead generation: Generate leads by converting potential customers into loyal ones, which boosts revenue growth.
Social Selling: Employ effective social selling techniques to enhance your online presence, engage potential clients, and cultivate meaningful relationships.
Multichannel Outreach: Multichannel outreach strategies to maximize exposure and engagement. Our team makes sure your message reaches your target audience on different platforms. This helps increase conversion and growth.
2. Cience Technologies
Cience Technologies mainly focuses on account-based marketing and sales development for SaaS startups. They use techniques to get quality leads that help their business. They always take a personalized approach to connecting with potential customers. Cience has a team of experts experienced in SaaS lead generation. Businesses can reach out to customers through phone calls or social media.
Main Features
Demographic, firmographic, and technographic data
Building and maintaining CRM
Pipeline acceleration
Penetrate new markets
Multichannel outbound campaign launches
3. Lead Generation.com
The lead generation service helps businesses of all sizes find new customers. They do this by providing outbound lead generation services. They generate leads through correct outbound strategies with the perfect team. The telemarketers are trained and talk to prospects to find the right solution. This company offers flexible, customized packages to meet the needs of SaaS startups.
Main Features
Inbound and outbound lead generation services
Email marketing
Content syndication
Paid advertising
Telemarketing
4. Belkins
Belkins is an industry leader in outbound lead generation services. They helps SaaS companies generate leads, set appointments, and create demand. Belkins makes nurturing campaigns to ensure relevance before connecting prospects with clients. They have years of experience helping startups achieve their growth targets with SaaS growth strategies.
Main Features
Outbound calling
Targeted email outreach
B2B appointment setting
Social media engagement
5. Sales Road
Sales Road is a company that helps businesses find new clients and set up appointments. They focus on B2B sales and reaching out to potential leads. They closely work with clients to set up a targeted list of potential leads. They have assisted various companies in technology, healthcare, and finance. Sales Road provides several methods to generate leads, including cold emailing, email marketing, and social media marketing.
Main Features
Fuel distributor/third parties
Re-engage missed opportunities
Accelerate your go-to-market
Identify new opportunities
Importance of outbound lead generation for SaaS startups
SaaS startups must recognize the importance of outbound lead generation and inbound marketing to succeed. Both approaches are valuable and necessary for success in today's competitive market. Include outbound lead generation services in your marketing strategy instead of just relying on inbound strategies.
Efficient Scaling
Outbound lead generation helps startups connect with a specific audience, so their marketing focuses on potential leads that are more likely to convert. This targeted approach leads to a higher return on investment. 
By monitoring real-time campaigns, startups can quickly adjust their tactics to improve efficiency. Startups collect data from their outreach to make informed decisions. They refine their strategy in real-time for optimal results.
Broadened Market Reach
Startups can expand their reach and market share by employing outbound efforts. This strategy allows them to explore new areas and markets they may have missed. Outbound methods help startups target potential clients. 
This reduces engagement time proactively, unlike inbound strategies. Startups can use outbound strategies to build their brand, make meaningful connections with potential customers, and improve sales.
Enhanced Brand Visibility
Effective outbound lead generation campaigns are crucial for startups to establish their brand presence and differentiate themselves from competitors. By regularly using outbound channels, you can reach people more often and help them remember your brand. 
Consistent outreach increases the likelihood of engagement and ensures your brand remains visible. Building a strong brand presence from the start is crucial for your startup's success.
Controlled Messaging
Startups can use outbound strategies to create messages that connect with their target audience. This personalized approach can significantly influence how your brand is perceived. Engage with clients to get feedback and adjust messaging quickly.
Tips for Choosing the Right B2B Lead Generation Agency for Your SaaS Startup
To find an excellent company for your outbound lead generation, consider several factors to help you decide. The right company will help you to scale your business, and the wrong one will waste your time and money. Here are some points that you have to take care of when considering the b2b SaaS agency:
Flexibility
Always consider lead generation B2B companies' flexibility. To get more leads, they need to change how many they send, who they send them to, and how they try to get them. You can adjust your requirements based on your company's goals. Choose what suits you best.
Data relevance
An outbound lead generation agency must match the client's needs and target customers to be useful. You need to find the right customer who has the right budget and can make decisions. A perfect B2B SaaS agency works actively with you to understand your target audience and get segmented leads.
Tracking of sales
Reaching out to prospects at the right time to increase your chance of success. So, always verify whether the outbound lead generation agency actively tracks sales triggers.
Pricing
Price is another factor before you choose a SaaS lead generation agency. Make sure to evaluate the costs of the service and the features they provide. Select a company with a customized pricing plan to meet your business needs.
Conclusion
Outbound lead generation is crucial for SaaS startups in a competitive marketplace. It's not just an extra strategy but a necessary part of a comprehensive marketing approach. It can help startups increase their source of leads and improve brand visibility by leveraging its advantages.
These five lead-generation B2B companies can help SaaS startups increase sales and gain new customers. SaaS businesses benefit from their strong partnership through their effective methods, experienced team, and successful track record. If you have a reliable partner for finding new customers, your startup can grow steadily and succeed in the long run.
Are you looking for reliable B2B lead-generation services? To focus on your primary business, you can trust growth.cx to handle lead generation.
FAQs
Inbound lead generation attracts potential customers with valuable content such as blogs, ebooks, and webinars.  To find new customers, outbound lead generation sends emails and mail to people.
There are seven strategies for outbound lead generation services. Some ways to contact people are cold calling, sending emails, and using social media. There are many ways to get people, such as using different channel ads, sharing content, or approaching them directly.
Email, phone, and LinkedIn are the three main ways to generate leads for your business.