Hey! Did you know that the global SaaS market revenue was valued at $165.9 billion in 2021 and is expected to increase at an 11.0% compound annual growth rate (CAGR) from 2022 to 2028.
This is a clear indication that the demand for SaaS products is growing day by day. But as more and more similar products emerge, competition gets tough.
Though many SaaS companies come to life many don't make it🤷‍♂️according to Startup Genome, 90% of startups completely fail.
Most medium and small-sized SaaS firms rarely have the opportunity to compete with their larger counterparts due to a lack of marketing experience and resources.
Marketing is difficult, if you did not know that, now you do, and  SaaS product marketing is a world unto itself. Its success demands the right talents, software and strategies. Long story short, it's quite a hassle to identify quality talent and find the right tools.
There is a lot of trial and error involved, eventually this uses up vital resources that SaaS companies can spend where they need it the most – The Product itself
Here are the top five reasons why you should hire a B2B SaaS product marketing agency right away:
Save your time and money.
Hire experts in your industry for a fraction of the actual cost of a complete in-house team.
Get consistent results and improvement in metrics that matter to your business/
Easy to scale your marketing efforts as your company grows.
A good B2B SaaS Product Marketing Agency provides an all-in-one solution for all your SaaS marketing concerns.
In this article, we list out the 10 best B2B SaaS product marketing agencies in 2023 that can help get your awesome product into the market with a bang and showcase it to the right people to grow all the metrics you're looking for – MQL, SQL, MRR ARR.
10 Best B2B SaaS Product Marketing Agencies That Startups Can Hire in 2023
1. growth.cx
growth.cx, is one of the leading full-service B2B SaaS Product Marketing Agencies in 2023. We have successfully collaborated with numerous businesses in the B2B SaaS sector, playing a vital role in scaling their growth and achieving significant improvements in key metrics.
Our primary objective at growth.cx has been to address the issue of high failure rates among SaaS startups. Therefore, we have dedicated ourselves to reducing this number by leveraging our expertise in the field of marketing, which is what we do best.
How We Stand Out
Unlike most agencies we don't charge exorbitant fees and deliver standard results, our commitment is to always go above and beyond our clients expectations. Our proven product marketing roadmap created by seasoned product experts has turned out to be a growth catalyst for many startups we collaborate with.
Our framework begins with
Mastering the product.
Conducting competitor and market research.
Developing the perfect ICP for your product.
Creating the best messaging and positioning for the product.
Identifying the best channels for product promotion.
Help with sales enablement and marketing collateral.
Start product launch.
Onboard prospects and nurture them.
Help gather customer feedback to achieve Product Market Fit.
Implement strategies and activities for customer retention.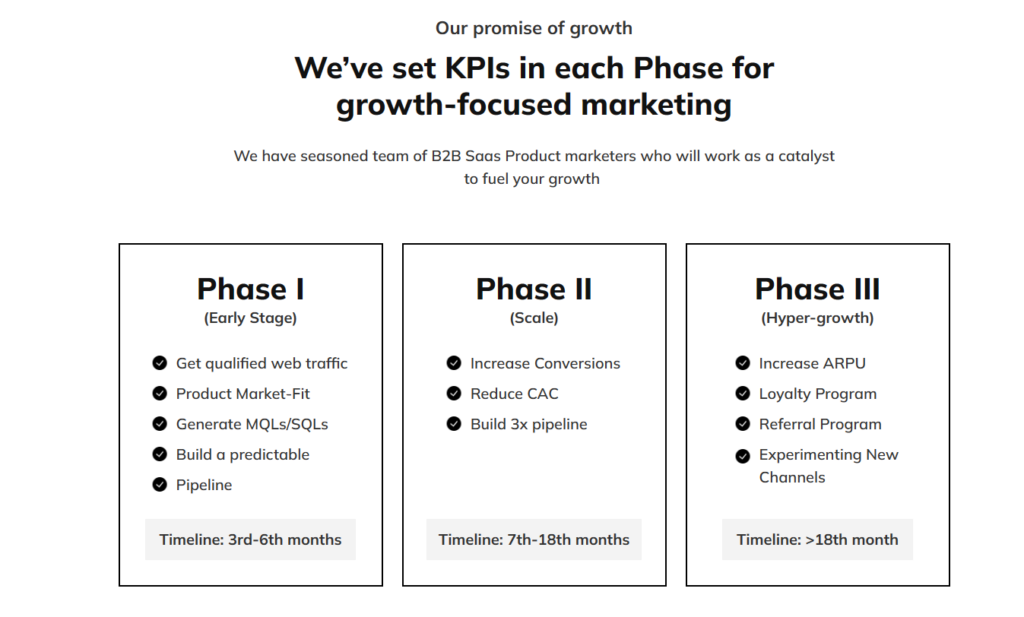 Right from the moment our collaboration starts we act as an extension of your internal product marketing team. Your goals are now OUR GOALS. growth.cx's product experts are now YOUR PRODUCT EXPERTS.
B2B SaaS Services We Provide to Hyper Scale Your Product
As a full-service product marketing agency, our team is capable of handling all marketing aspects from strategic planning and production to sales, social media, digital marketing, analytics, and more.
In short, we take care of everything your product needs to shine in the market. Our services include: 
Conversion Rate Optimization
Social Media Marketing
Inside Sales, Sales Enablement
Fractional CMO
Fractional SaaS Marketing Service
Some of Our Growth Hacks For B2B SaaS Companies
With our team expertise, we were able to scale Key SaaS Metrics for many businesses irrespective of the industry they belong to
We generated over $135k ARR in the 9th month alone for SurveySensum – An AI enabled Online Survey Platform.
We helped GlobalPatron get over 500 paid conversions through various organic channels.
We helped cmercury an AI-powered Email Marketing Platform get over 250% increase in organic traffic and 330% in organic sign ups in 6 months
No matter what industry your startup is in, all we care about is scaling your business to new heights that you have not seen.
Top Case Studies
I. Factors.ai
Factors.ai is a B2B marketing analytics software company that helps businesses make sense of their data and make smarter, faster decisions. It offers an out-of-the-box marketing analytics solution that is designed to be easy to use and understand.
Ideal Customer Profile
| | |
| --- | --- |
| Regions | US, India |
| Buyer Persona | C-Level executives, and CMOs |
| Domains | FInance, Education, Architecture, Software, E-commerce |
| Company size | Large Businesses and Enterprises |
growth.cx helped in
Content Marketing
SEO Marketing
Sample Works
Blogs
Content Optimization
II. SalesQL
SalesQL is a tool that helps you find personal and business emails, as well as phone numbers, on LinkedIn profiles. You can use it as Google Chrome or Microsoft Edge Extension.
Ideal Customer Profile
| | |
| --- | --- |
| Regions | USA |
| Buyer Persona | Marketing Specialists, Performance Marketers, Sales Associates |
| Domains | Healthcare, Software, Hospitality |
| Company size | Medium Businesses and Enterprises |
growth.cx helped in
Content Marketing
SEO Marketing
Social Media Marketing
Achievements
Achieved 116% increase in organic traffic in just 3 months.
Tring Partner
Tringpartner is an IVR service provider that offers end-to-end call automation, call tracking, call routing, virtual phone numbers, call management, and more. Their app-based business phone system helps teams keep track of all business calls in one convenient location.
Ideal Customer Profile
| | |
| --- | --- |
| Regions | India |
| Buyer Persona | Medium and Small business owners |
| Domains | Automobile, Health care, Education, Hospitality, Consumer Goods, Tours & Travels, Real Estate, IT products & services |
| Company size | Small and Medium Businesses |
growth.cx helped in
Performance Marketing
Positioning Social Media
Sample works
Achievements
Consistently generated 5-8 leads daily.
Reduced CPL from $9.78 to $4.28.
Reduced disqualified leads to less than 5% to make Sales Team's job better
A predictable sales pipeline was built in 3 months
Insert reinforcement statement: Be it B2B SaaS, B2B Service, B2C to e-commerce, bootstrapped, VC-funded they don't care. All growth.cx cares about scaling your business to new heights that you have not seen.
2. Altroise
Altorise is a product marketing agency that has been very successful in helping its clients grow their businesses. They have a strong track record of helping their clients achieve their business goals. If you are looking for a company that can help you with your product marketing, Altorise is a great option.
Services offered
GTM Strategy
Performance marketing
Social media marketing
Branding and identity
Startup growth
3. Vajra Global
Vajra Global is a marketing agency based in Chennai, India. They were founded in 2018 by a team of experienced professionals with a passion for helping businesses grow. Vajra Global is committed to providing its clients with high-quality service and measurable results. They work with each client to understand their goals and create a custom marketing plan that is tailored to their specific needs.
Vajra Global offers a wide range of marketing services, including:
SaaS Marketing
Digital Marketing
Cybersecurity Marketing
B2B Marketing
IT & Technology
4. Transcend Digital
Transcend Digital is one of the best choices for SaaS product marketing. They have a strong record in product marketing, and they also help with product development. They help businesses of all sizes grow their online presence and achieve their business goals.
Transcend Digital's range of services include
PPC / Advertising
SEO & Content
Email Marketing
Digital Marketing
5. Gozoop
Gozoop is a marketing agency that helps brands and businesses grow their online presence and achieve their business goals. They are based in India, and they help SaaS business grow their online presence.
Services Offered
Brand strategy
Website design and development
Content marketing
Search engine optimization (SEO
Pay-per-click (PPC) advertising
Social media marketing
Email marketing
6. Viral mafia
Viral Mafia is a complete marketing agency that helps SaaS products achieve their marketing goals. They are based in Kerala, India. They have a strong portfolio of clients to whom they helped to increase their product's digital visibility.
Services Offered
SEO
SEM
Lead generation
Social media marketing
Content marketing
Email marketing
Web design and development
7. Fresh Mind Ideas
Fresh mind ideas is a marketing agency that helps in SaaS product marketing. They have more than 8 years of experience in marketing, and they have good product marketing knowledge.
Services Offered
Branding
Digital Marketing
User experience design
8. Digichefs
DigiChefs is a marketing agency based in Mumbai, India. They were founded in 2015 by a team of experienced professionals with a passion for helping businesses grow. They specialize in SaaS product marketing.
Services Offered
Performance Marketing
Email Marketing and Automation
Creative Campaigns & Social Media Management
Mobile Marketing
Analytics & Insights
Influencer Marketing
Strategy
Digital Content Production
Search Engine Optimization
9. Kloud portal
KloudPortal is a SaaS product development and marketing agency based in Hyderabad, India. They were founded in 2016 by a team of experienced professionals with a passion for helping businesses grow.
Services Offered
SaaS Product Marketing
SaaS Product Development
SaaS Sales
10. Markivis
Markivis is a company based in New Delhi, India, that specializes in product marketing. Markivis was founded in 2015 by a team of experienced product marketers who saw a need for a company that could help businesses with all aspects of product marketing, from strategy to execution. Markivis has a team of experts who can help businesses with product marketing.
Services Offered
Digital Marketing Services
Marketing Communication Services
Marketing Consulting Services
Account Based Marketing
Hacks to find the perfect Product marketing agencies
You're here because you want to find the ultimate B2B SaaS product marketing agency for your business, right? Well, you've landed in the perfect spot. Finding a suitable agency can be a bit like searching for a needle in a haystack. But don't worry, we've got some amazing hacks to help streamline your search. Buckle up, and let's dive in!
Tip #1: Know What You Want
Before you can find your ideal marketing agency, you need to understand your own needs. Consider this – Do you need a full-scale marketing strategy, or just SEO optimization? Or are you hunting for experts in content marketing or lead generation? Your agency should match your requirements. So, first things first –
Define your goals.
Identify the areas you need help with.
Sounds simple, right? Well, sometimes, the simplest things can make the biggest difference.
Tip #2: Dig Deep Into Their Specialties
All agencies are not created equal. Some excel at SEO, while others may be wizards of social media. When you're on the hunt for the perfect product marketing agency, remember to ask –
What services does the agency specialize in?
Do they have a proven track record in your niche?
Chances are you wouldn't want a seafood chef cooking up your steak dinner, would you? The same principle applies here. Go for the agency that has expertise in your field!
Tip #3: Assess Their Track Record
You wouldn't hire someone without looking at their resume, would you? Similarly, the track record of a marketing agency is its resume. So, do your homework and check their portfolio. A few points to ponder –
Have they worked with companies similar to yours?
What were the results of their campaigns?
Asking these questions can make a world of difference to your final decision.
Tip #4: The Price Is Right…Or Is It?
Now, this is a tricky one. You don't want to burn a hole in your pocket, but remember, cheap isn't always cheerful. Instead of focusing on price alone, consider the value the agency brings to the table. Ask yourself –
What's the return on investment?
Are their services worth your hard-earned dollars?
A budget-friendly agency might seem appealing, but not if they can't deliver results. So think value, not cost.
Tip #5: Cultural Fit Matters
You might be thinking, "Wait, what? Cultural fit? We're talking about marketing agencies, not a new best friend!" Bear with me for a moment. A good cultural fit means better communication, better understanding, and ultimately, better results. So, before you seal the deal, consider –
Does the agency's work style match yours?
Do you feel comfortable communicating with them?
This might seem like a minor detail, but trust me, it can make or break your partnership.
So there you have it, folks. Keep these hacks in your back pocket when you're searching for the perfect B2B SaaS product marketing agency. Remember, the key to success lies in choosing an agency that understands your needs, shares your vision, and has the experience and expertise to turn that vision into reality. Happy hunting!
Conclusion
These 10 best B2B SaaS product marketing agencies can handle your marketing difficulties while you focus on what you do best.
Even with a variety of various subject areas, this list only scratches the surface of what's currently accessible.
Overall, we understand that selecting an agency is a huge step, so do your research, get in touch with previous and existing clients of the agency and ask them for feedback if they are interested, talk to the agencies and the professional in-house team, gauge their expertise and then make the best selection for your business.
We propose working with a company that keeps itself accountable for outcomes, so you just pay for results and receive the finest SaaS marketing available.
Connect with us at contact@growthcx.com as we can help your B2B Saas Company in scaling and make you the leader of your industry. Check out our services and get on a call with a cup of coffee to unlock your hidden growth potential.
FAQs on B2B SaaS Product Marketing
What is a B2B SaaS Product Marketing Agency?
A B2B SaaS Product Marketing Agency assists Software-as-a-Service businesses in developing a data-driven B2B SaaS Go-To-Marketing strategy. In general product marketing agencies can help businesses with
Product messaging and positioning.
Customer Segmentation
Product Pricing
Sales Enablement
Marketing Collateral
Product Launch
Content creation, demand generation and much much more.
A good agency can help you with everything and anything related to getting your product the attention it deserves.
Is it necessary to collaborate/hire a B2B SaaS Product Marketing agency?
Each SaaS product is unique. Begin by identifying areas where you need help or improvement, such as copywriting, onboarding, price strategy, or lead creation.
Collaboration with a B2B SaaS marketing professional or consultant specializing in those areas can help you scale quickly and easily without having to go through the hassle of identifying and hiring someone.
What types of SaaS promotions are the most effective?
Among the many ways to promote your B2B SaaS product strategy are limited-time free or discounted trial offers, a branded podcast, live Q&A sessions on social media, customer testimonial clips, and unique content that stands out.
How much money does B2B SaaS marketing cost?
While the average total marketing budget is between 5-12% of total revenue, how much you should invest in marketing your B2B SaaS company depends totally on its current stage.
For which channels should you hire a SaaS marketing agency?
When searching for a SaaS marketing agency, make sure they can assist you with social media, since this may be really valuable.
Many B2B SaaS marketing agencies overlook the significance of social media. Therefore it is worthwhile to get assistance from someone who knows what they are doing. On the other hand, your website is the greatest spot for a SaaS marketing agency to assist you.
This is due to the importance of SEO in this scenario, and you want to have a lot of useful content on your website. To have a consistent income stream, you must appear at the top of the search results.