In the fast-paced world of B2B SaaS is a swim or sink environment. Your competitors are constantly innovating, and you risk being left behind if you don't keep up. But what if I told you there's a secret weapon that could help skyrocket your SaaS business to new heights in 2024?
The Ultimate Growth Weapon for your business is – B2B SaaS Digital Marketing Agencies. Yes, at a fraction of what an internal marketing would cost your business you get the expertise, know-how, tools , applications, growth, scalability, etc.
You name it, they got it.
Top Digital Marketing Agency is your ticket to product and business success. In this blog post, we're unveiling the top 15 B2B SaaS digital marketing agencies in 2023.
So, without further delay, let's look at some of the digital marketing agencies that can propel your SaaS business to new levels of success and help you dominate your industry.
15 Best Digital Marketing Agencies to Hire in 2024
1. growth.cx
growth.cx: A Cutting-Edge Digital Marketing Agency for SaaS Startups
In SaaS startups, it takes more than just an innovative product to succeed. It requires a well-executed growth strategy that can propel your business into the limelight and keep it there. Enter growth.cx, a growth marketing agency specializing in helping SaaS startups flourish.
growth.cx comprises a talented team of growth hackers, digital marketers, content creators, developers, and designers. Each member brings a unique skill set to the table, contributing to a holistic approach to growth marketing. This blend of diverse expertise sets growth.cx apart, allowing them to tailor their strategies to meet each client's unique needs.
How growth.cx Stand Out
Unlike most agencies, they don't have a template approach to the clients. They use services and frameworks to best suit the needs of the customers with the goal of over-achieving their expectations.
In general, this is how they work
Define clear objectives
Identify KPIs that matter to your business
Conduct market and competitor analysis
Create a tailor made strategy
Identify the best organic channels to market your brand and product
And finally, start working out the magic.
Oh wait, it doesn't end there. They regularly track, monitor and optimize their approach to get you the best results.
Right from the moment you partner with growth.cx, they act as an extension of your internal team. Your Goals are now THEIR GOALS. Your Product is now THEIR PRODUCT.
Based on your requirements they select and form a custom team of specialists and integrate them with your internal team – They are now YOUR TEAM MEMBERS
B2B SaaS Services That growth.cx Provide to Super Scale Your Business
growth.cx are not like your typical digital marketing agency (You probably figured that out by now), growth.cx is a Full Service Marketing Agency.
They as a team are capable of handling all marketing aspects from strategic planning and production, sales, social media, digital marketing, analytics and more.
In short growth.cx provides every digital service your business needs. Their services include:
Their services include:
Top Case Studies
Factors.ai
Factors.ai is a B2B marketing analytics software company that helps businesses make sense of their data and make smarter, faster decisions. It offers an out-of-the-box marketing analytics solution that is designed to be easy to use and understand.
Ideal Customer Profile
| | |
| --- | --- |
| Regions | US, India |
| Buyer Persona | C-Level executives, and CMOs |
| Domains | FInance, Education, Architecture, Software, E-commerce |
| Company size | Large Businesses and Enterprises |
growth.cx helped in
Content Marketing
SEO Marketing
Sample Works
Blogs
Content Optimization
SalesQL
SalesQL is a tool that helps you find personal and business emails, as well as phone numbers, on LinkedIn profiles. You can use it as Google Chrome or Microsoft Edge Extension.
Ideal Customer Profile
| | |
| --- | --- |
| Regions | USA |
| Buyer Persona | Marketing Specialists, Performance Marketers, Sales Associates |
| Domains | Healthcare, Software, Hospitality |
| Company size | Medium Businesses and Enterprises |
growth.cx helped in
Content Marketing
SEO Marketing
Social Media Marketing
Achievements
Achieved 116% increase in organic traffic in just 3 months.
Tring Partner
Tringpartner is an IVR service provider that offers end-to-end call automation, call tracking, call routing, virtual phone numbers, call management, and more. Their app-based business phone system helps teams keep track of all business calls in one convenient location.
Ideal Customer Profile
| | |
| --- | --- |
| Regions | India |
| Buyer Persona | Medium and Small business owners |
| Domains | Automobile, Health care, Education, Hospitality, Consumer Goods, Tours & Travels, Real Estate, IT products & services |
| Company size | Small and Medium Businesses |
growth.cx helped in
Performance Marketing
Positioning Social Media
Sample works
Achievements
Consistently generated 5-8 leads daily.
Reduced CPL from $9.78 to $4.28.
Reduced disqualified leads to less than 5% to make Sales Team's job better
A predictable sales pipeline was built in 3 months
Insert reinforcement statement: Be it B2B SaaS, B2B Service, B2C to e-commerce, bootstrapped, VC-funded they don't care. All growth.cx cares about scaling your business to new heights that you have not seen.
2. Webchutney
Webchutney is one of the most popular and top digital marketing agencies in India in 2022! They follow a progressive approach in online marketing by combining innovations and technologies.
Webchutney was started 23 years ago, and now they have many award-winning campaigns and trusted clients!
Services Offered
Social Media Marketing
Search Engine Optimization
Content Marketing
Web Development
3. iProspect India
iProspect India helps companies to grab an edge over their competitors using their unique strategies and campaigns.
The company was founded in 1997 and has worked with many big brands in India. Moreover, iProspect India has won many awards like Best Digital Integrated Campaign Award from Aegon Life and iDecide, Best Digital Marketing Campaign Award from YES BANK, and many more!
Services Offered
Search Engine Marketing
Search Engine Optimisation
Paid Search Advertising
Organic Search Results
4. Mirum India
Previously known as Social Wavelength, Mirum India also takes a spot among the top digital marketing agencies for many reasons.
It's one of the few top digital marketing agencies in India which offers 360-degree solutions and has worked with popular brands like TVS, Nissan, LG, etc. Mirum India has completed 10 years of experience in digital marketing and has a lot of knowledge in the field!
Services Offered
Digital Communication
Social Media Presence
Corporate Blogging
Digital Media Planning and Buying
5. Pinstorm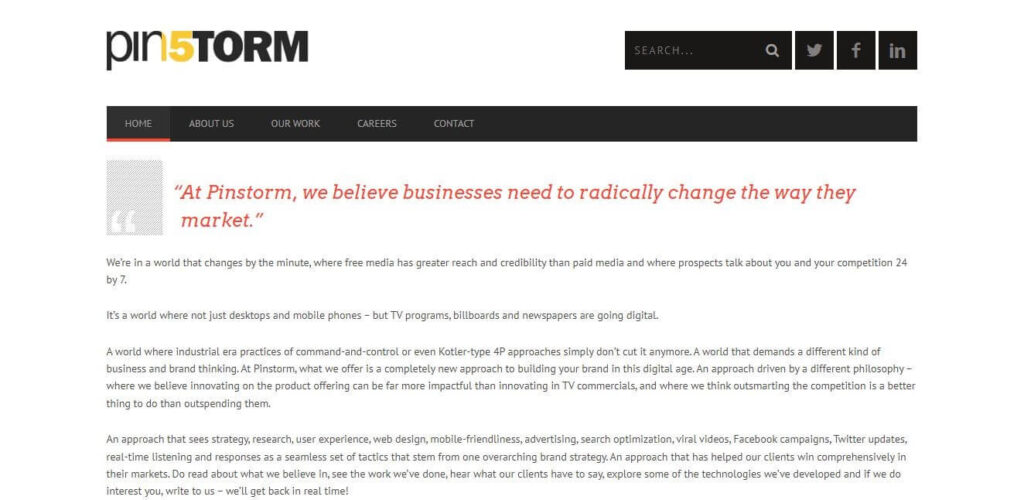 Established in 2004, Pinstorm won the Red Herring Global Top 100' award in 2020. This marketing agency in India has offices in Delhi, Mumbai, and Bengaluru and has served companies such as HSBC, ICICI Bank, ET NOW, etc.
Content marketing is the biggest strength of this best digital marketing agency.
Services Offered
Social Media Marketing
Online Reputation Management
Digital Marketing
Search Engine Optimization
6. BCWebwise
You won't find a list of top digital marketing agencies in India without BCWebwise! It is a full-service digital solutions provider famous for its creative strategies and successful campaigns.
BCWebwise was founded in 2000, and they have great knowledge in social media marketing, search engine optimization, customer relationship management, etc.
Services Offered
Mobile Marketing
Web Marketing
Social Media Marketing
Branding
7. WATConsult
WATConsult is another top marketing agency in India that helps businesses build a brand and drive sales! They have a diverse team of professionals and are experts in the digital marketing field.
Moreover, WATConsult has also won many awards, such as DMAi Gold Award for a Lead-based search campaign from Reliance Group, Youth Marketing Award for Best Disruptive Digital Campaign from Jack & Jones, and more!
Services Offered
Social Media Marketing
Mobile Marketing
Digital Marketing
Search Engine Marketing
8. Growth Hackers Digital
Growth Hackers Digital is a digital performance marketing agency that helps businesses achieve their short and long term goals. The agency has a proven track record of working with startups and established companies.
Growth Hackers specialties mostly in paid social media ads. They design dynamic campaigns and continuously test and tweak them to ensure campaign success.
Services Offered
Social Media Marketing
Content Marketing
SEO
WordPress Development
9. The NineHertz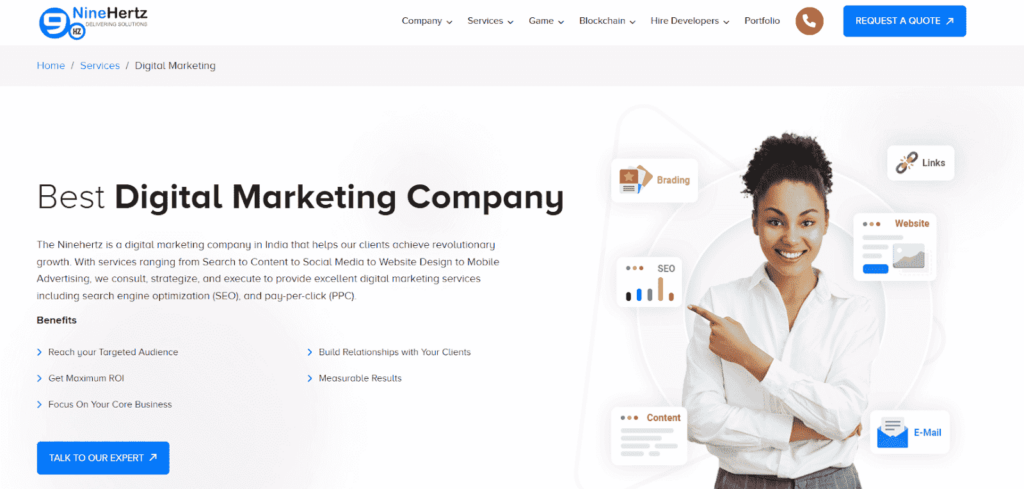 The NineHertz is a digital marketing company that believes that the key to getting the best results for their clients is through an integrated approach to their campaigns.
Their unique approach is to create a strategy based on the KPIs that matter to their customers and brainstorm campaigns that would best perform for those specific KPIs. Moreover, NineHertz uses data analytics tools to optimize its campaigns to increase its performance and efficiency.
Services Offered
SEO
Search Engine Marketing
Content Marketing
Social Media Marketing
10. FoxyMoron
FoxyMoron is a full-service digital marketing agency having a team of over 200 professionals. The agency has worked with some big name brands like Netflix, L'Oreal, Puma, etc.
FoxyMoron is quite well known for its creative social media campaigns that include the latest trends to connect with its clients' target audience and keep them engaged in new and exciting ways. This approach has helped create memorable experiences for consumers while driving results for their clients.
Services Offered
Brand Communication
Content Production
Search Engine Marketing
Media Services
11. WebFX
WebFX is another top digital marketing agency that offers a comprehensive range of services. Their marketing experts specialize in SEO, PPC, social media, content marketing, and web design.
For over 25 years, WebFX has been leading the digital marketing industry. They help businesses reach their marketing goals and increase revenue. Its commitment to data-driven strategies is the critical factor that sets WebFX apart from other agencies. Advanced analytics and tracking tools enable WebFX to improve its services constantly.
Services Offered:
SEO & lead generation
Revenue Marketing & CRO
UX & Interactive
12. Ignite Visibility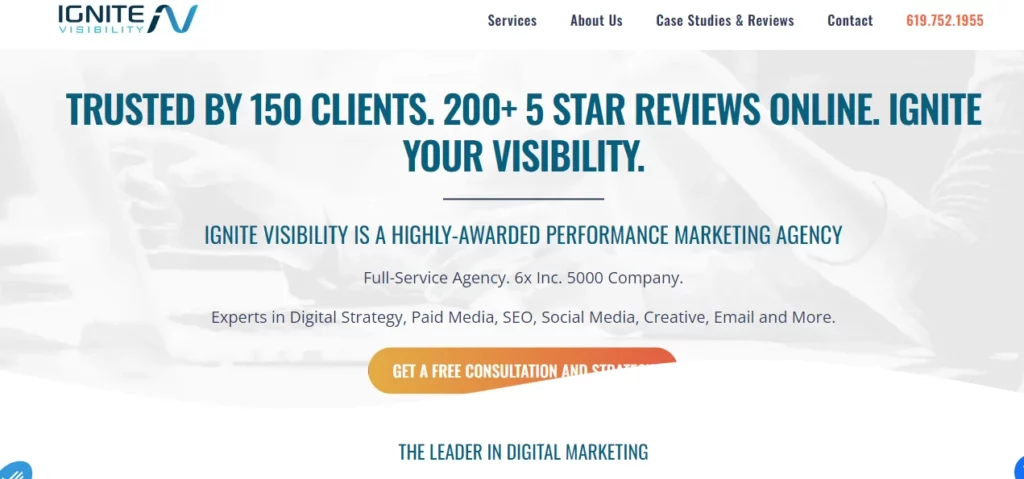 Ignite Visibility was founded in 2013 and offers the best digital marketing strategies. Their innovative approach and result-driven services have earned them a reputation for excellence.
All professional experts work closely with clients to understand their goals and requirements. Custom campaigns are created to get the results you want. Businesses of all sizes can benefit from Ignite Visibility's services.
Services Offered:
Search engine optimization
Digital PR
Inbound Marketing
Interactive Campaigns
Conversion Rate Optimization
13. Lyfe Marketing
Lyfe Marketing allows businesses to enhance their online presence through social media platforms. Using their social media experts, they assist businesses in connecting with their target customers and driving results through engaging and targeted content.
Lyfe marketing helps businesses increase revenue through email and influencer marketing.
Service Offered:
Social media marketing services
PPC management services
Email marketing services
Short video management services
Short video advertisement services
14. Blue Corona
Blue Corona specializes in inbound web marketing, analytics, and optimization with offices in Maryland (MD) and North Carolina (NC). Data-driven strategies and proven results will keep Blue Corona at the top in 2023.
Their expert team collaborates with clients to create custom marketing campaigns for optimal ROI.
Service Offered:
Tracking & analytics
Search engine optimization
Pay per click
Website design & development
Email marketing
Social media marketing
Video Marketing
CSR training
15. SmartSites
SmartSites team is a digital marketing agency specializing in website design, SEO, and pay-per-click. Alex and Michael Melen, two brothers who love digital, started SmartSites. The innovative ideas and hard work of the SmartSites team have made the company one of the fastest-growing companies in the United States.
Their commitment to sustainable growth for their clients makes them a top choice for businesses in 2023. Also, SmartSites offers content marketing, social media management, and e-commerce solutions.
Service Offered:
Web design
Pay-per-click advertising
Search engine optimization
Email & SMS marketing
Social media marketing
Benefits of a Digital Marketing Agency
Businesses constantly seek ways to optimize online visibility and client engagement. India's best digital marketing company is good for finding the right marketing strategies.
They understand complex digital ecosystems combined with industry-specific knowledge. SaaS organizations can take advantage of them to stay competitive.
Hiring a marketing agency has some benefits:
1. Expertise and Experience
A digital marketing agency has in-depth knowledge and hands-on experience in the specificities of SaaS products. They understand the business model, sales cycles, and customer acquisition strategies unique to SaaS businesses. A specialized agency is well-versed in SaaS products, subscription models, and challenges and opportunities.
2. Latest Tools and Technologies
This marketing agency invests in the latest marketing tools, software, and technologies to keep pace with this digital world. These resources enable them to optimize your campaigns, track performance, and deliver better results.
3. Cost Efficiency
Your marketing can be handled by a specialized agency, freeing up your team to focus on core business functions. This B2B SaaS SEO agency typically has access to a diverse team of experts, eliminating the need for extensive training and onboarding costs. It ensures efficiency and can result in cost savings in the long term.
4. Scalability
As your business grows, a digital marketing agency can adapt and scale its services to meet your expanding needs. This flexibility is precious in the fast-paced SaaS industry, where rapid growth can be unpredictable.
5. Optimized Customer Acquisition
Effective customer acquisition and retention are crucial for the success of SaaS businesses. A B2B SaaS marketing agency understands the customer journey in the software-as-a-service realm, optimizing strategies to attract, convert, and retain valuable clients for the long term.
6. Targeted Approach
These agencies demand a targeted approach in their service. They develop strategies that resonate with your specific audience and industry knowledge to create content, campaigns, and messaging that speak to your potential clients.
Things to Do Before Choosing a B2B SaaS Digital Marketing Agency
1. Set Your Budget
The first and most crucial step when choosing a digital marketing agency is to set a budget.
Ask yourself, "What is the appropriate budget for digitally marketing your SaaS startup?". Answering this question will give you an idea of the approximate amount you would like to spend and help you shortlist all companies that fall into your budget.
2. Determine Your Needs
You should clearly know what you want from the SaaS digital marketing agency you are looking to hire. Find the services they offer and see if it matches your needs.
For example, the essential service that every SaaS startup would expect from a B2B digital marketing company is to build an eye-catching website for them. So, ensure they have a portfolio of website design and development projects.
3. Check For Additional Services Offered
Many, if not all, B2B SaaS digital marketing agencies offer additional services apart from branding, digital marketing, and website design and development. Conduct thorough research about the company – its history, services, achievements, and awards.
If you need any services in the future that the company you are eyeing has, you can get in touch with them instead of looking for a new company.
4. Get In Touch With Their Previous Customers
You can get deeper insights about a digital marketing agency by talking with the customers they have worked with. Obviously, you will get the client list from their website, and the agency might also say that the customers are satisfied.
However, you can't simply believe in promotional tactics. So contact their clients, schedule a meeting with them and ask about the quality of their work, the in-house team, and how professional and experienced the agency is at their work.
Finally, after researching the agency, the services they offer, the pricing, and the quality of work based on their clients' feedback.
The next step is directly connecting with the B2B SaaS marketing agency, discussing your business requirements, and meeting the agency's professionals working with you.
This will help you directly evaluate factors like professionalism and expertise, among other factors of the team.
Conclusion
Partnering with a top digital marketing agency can be a game-changer for your business. With their expertise, you can create and implement cutting-edge digital marketing strategies that will help you stay ahead of the competition and achieve your business goals.
However, before hiring an agency, it's essential to take the time to determine your business needs, set a budget, and check for any additional services that may come in handy. It's also important to read reviews and testimonials from the agency's previous customers and meet with their in-house professionals to gauge their expertise.
Our list is a great starting point to explore. So, don't wait any longer, take the next step and partner with the agency that best suits your needs.
If you are a SaaS startup looking to grow your business as fast as possible. Then get in touch with our experienced team and let us help you achieve your vision faster than you imagined.
FAQ