When it comes to online marketing, digital marketing agencies in India are widely popular! This is because India welcomes new companies and start-ups that dwell in marketing. Moreover, the increased usage of the internet and social media apps are also responsible for this rise in the popularity of digital marketing agencies in India!
According to an article published by Forbes India titled "How much time do people spend on social media and why?". India currently stands at the top of the list of countries with the most social platforms used per person, with an average of 8.7, compared to 3.7 in Japan!
And that's not all. Another study by GE Capital Retail Bank found that a whopping 81% of customers research their product online before making a purchase!
So it's now you have got two solid reasons why digital marketing agencies are crucial!
The following section will let you know why it's high time for your business to get help from a digital marketing agency!
Why is Digital Marketing Important For Your Business?
According to studies, around 58.4% of the world's population now uses social networks, with an average daily use time of 2 hours and 27 minutes, and the numbers are increasing daily!
These numbers are enormous, proving that social media significantly impacts marketing!
Therefore most businesses hold an account on social media platforms, mainly Facebook, Twitter, LinkedIn, etc.
But merely having your presence on social media is not enough. You need to utilize it efficiently to promote your brand, and that's where the assistance of digital marketing agencies comes into play!
Digital marketing agencies implement unique social media and content marketing strategies to help you generate leads! They also help you build an optimized website, active social media profiles with relevant posts, and more!
The following section is for you if you own a startup company!
Digital Marketing Strategy For Your B2B SaaS Startups
As a startup company, you might have developed your product or services. You have also completed all the preliminaries to start a business. Now it's time for you to enter the marketing floor and attract customers.
For that, you need to optimize your website, use social media marketing, create a content marketing strategy, start advertising on Facebook and Google, etc.
Now you might wonder how you can do all these activities yourself. That's why every startup should get assistance from a good SaaS digital marketing agency.
Here are some of the top strategies a B2B SaaS digital marketing agency will implement to grow your startup.
The first step is to build your brand and a website. Digital marketing agencies help you create a unique logo for your brand, build an SEO-optimized website and maintain an active profile on all major social networks!
Once your website and social media profiles are ready, the next thing to do is to raise brand awareness by promoting your brand on various online platforms.
Email marketing is another technique offered by your digital marketing company to build a community of people that want to hear about your brand and products. It can readily improve your website visits, sign-ups and conversions!
Did you know that paid advertising is the fastest way for a startup to improve traffic? Yes, a good digital marketing agency will be well aware of how to use Google Ads and grow your business!
Lastly and most importantly, a digital marketing agency will never leave you without implementing SEO(Search Engine Optimization!) As mentioned earlier, SEO helps you rank higher in search engine result pages!
I hope you now understand the importance of a digital marketing agency for startups. If you're planning to get assistance from a digital marketing company, consider the factors explained in the following section!
Things To Do Before Choosing A B2B SaaS Digital Marketing Agency
1. Set Your Budget
The first and most crucial step when choosing a saas digital marketing agency is to set a budget.
Ask yourself, "What is the appropriate budget you can spend on digitally marketing your saas startup?". Answering this question will give you an idea of the approximate amount you would like to spend and help you shortlist all companies that fall into your budget.
2. Determine Your Needs
You should clearly know what you want from the saas digital marketing agency you are looking to hire. Find the services they offer and see if it matches your needs.
For example, the essential service that every saas startup would expect from a b2b digital marketing company is to build an eye-catchy website for them. So make sure they have a portfolio of website design and development projects.
3. Check For Additional Services Offered
Many, if not all, B2B SaaS digital marketing agencies offer additional services apart from branding, digital marketing and website design and development. Conduct thorough research about the company – its history, services, achievements, and awards.
If you need any services in the future that the company you are eyeing has, you can get in touch with them instead of looking for a new company.
Here at growth.cx, we offer a host of other services such as SaaS consulting, content marketing services, growth hacking and marketing, SEO and so on.
4. Get In Touch With Their Previous Customers
You can get deeper insights about an agency by talking with the customers they have worked with. Obviously, you will get the client list from their website, and the agency might also say that the customers are satisfied.
However, you can't simply believe promotional tactics. So contact their clients, schedule a meeting with them and ask about the quality of their work, the in-house team, and how professional and experienced the agency is at their work.
5. Meet The Agencies In-house Professionals
Finally, after researching the agency, the services they offer, the pricing and the quality of work based on their clients' feedback.
The next step is directly connecting with the B2B SaaS marketing agency, discussing your business requirements, and meeting the agency's professionals working with you.
This will help you directly evaluate factors like professionalism and expertise, among other factors of the team.
7 Best Digital Marketing Agencies In India
To help you choose the right one, we have compiled a list of some of the top digital marketing agencies in India!
1. Growth.cx
Founded in 2020, Growth.cx is one of India's top Full-Service B2B SaaS Marketing Agencies in 2023.
Though we are a young agency, our in-house team of professionals are experts in unique saas growth hacking techniques and b2b digital marketing strategies that can quickly help your startup grow.
Whether you own a SaaS or e-Commerce company, we can help you with all marketing and sales funnel stages. Our enthusiastic professionals are experts in organising marketing campaigns, content writing, social media handling, growth marketing strategies, inside sales, email marketing and more!
Here are a few of the services we offer for SaaS startups.
Services Offered
Growth Consulting
Content Marketing
Growth-Led SEO
Performance Marketing
Social Media Marketing
Conversion Rate Optimization
Branding and Positioning
Website Design, Development and Hosting
2. Webchutney
Webchutney is one of the most popular and top digital marketing agencies in India in 2022! They follow a progressive approach in online marketing by combining innovations and technologies.
Webchutney was started 23 years ago, and now they have many award-winning campaigns and trusted clients!
Services Offered
Social Media Marketing
Search Engine Optimization
Content Marketing
Web Development
3. iProspect India
iProspect India helps companies to grab an edge over their competitors using their unique strategies and campaigns.
The company was founded in 1997 and has worked with many big brands in India. Moreover, iProspect India has won many awards like Best Digital Integrated Campaign Award from Aegon Life and iDecide, Best Digital Marketing Campaign Award from YES BANK, and many more!
Services Offered
Search Engine Marketing
Search Engine Optimisation
Paid Search Advertising
Organic Search Results
4. Mirum India
Previously known as Social Wavelength, Mirum India also takes a spot among the top digital marketing agencies for many reasons.
It's one of the few top digital marketing agencies in India which offers 360-degree solutions and has worked with popular brands like TVS, Nissan, LG, etc. Mirum India has completed 10 years of experience in digital marketing and has a lot of knowledge in the field!
Services Offered
Digital Communication
Social Media Presence
Corporate Blogging
Digital Media Planning and Buying
5. Pinstorm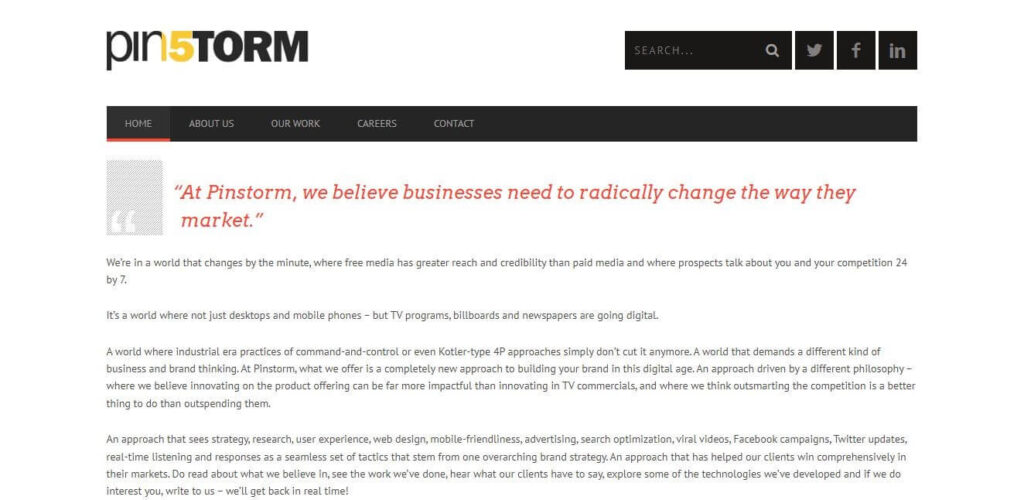 Established in 2004, Pinstorm won the Red Herring Global Top 100' award in 2020. This marketing agency in India has offices in Delhi, Mumbai, and Bengaluru and has served companies such as HSBC, ICICI Bank, ET NOW, etc.
Content marketing is the biggest strength of this best digital marketing agency.
Services Offered
Social Media Marketing
Online Reputation Management
Digital Marketing
Search Engine Optimization
6. BCWebwise
You won't find a list of top digital marketing agencies in India without BCWebwise! It is a full-service digital solutions provider famous for its creative strategies and successful campaigns.
BCWebwise was founded in 2000, and they have great knowledge in social media marketing, search engine optimization, customer relationship management, etc.
Services Offered
Mobile Marketing
Web Marketing
Social Media Marketing
Branding
7. WATConsult
WATConsult is another top marketing agency in India that helps businesses build a brand and drive sales! They have a diverse team of professionals and are experts in the digital marketing field.
Moreover, WATConsult has also won many awards, such as DMAi Gold Award for a Lead-based search campaign from Reliance Group, Youth Marketing Award for Best Disruptive Digital Campaign from Jack & Jones and more!
Services Offered
Social Media Marketing
Mobile Marketing
Digital Marketing
Search Marketing
Conclusion
We hope this blog has helped you understand why most of your competitors have already started investing in SaaS digital marketing services.
And we also hope our list of the Top 7 B2B SaaS digital marketing Agencies has helped you get a clear picture of what to expect from a top agency and at the very least, reduced your research time.
If you are a SaaS startup looking to grow your business as fast as possible. Then get in touch with our experienced team and let us help you achieve your vision faster than you imagined